There is an increased interest in live television on slides. More presentations are given and people try to combine television with PowerPoint slides with information, instructions, and charts.
Nolan Haims tweeted this request of having PowerPoint to show live video into slides.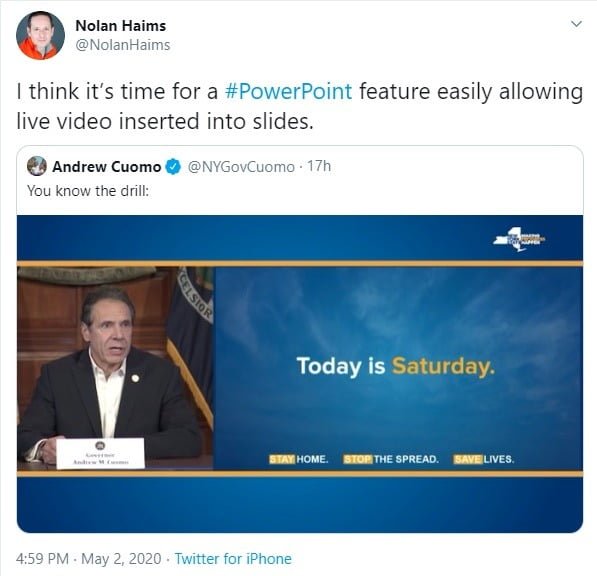 We have that functionality with our VideoPoint plugin for PowerPoint where you can camera output as well as a live video stream on your slideshow. The power of television and video combined with information, messages, and numbers on slides.
First, put your information and numbers on slides. Use a slide per message. Add instructions like e.g. here instructions on how to stay safe during this Covid-19 crisis. Leave room for the output of your live stream.
Use our VideoPoint plugin for PowerPoint. Click to open it and click the Insert button. This will insert a green screen shape onto your slide. 
You can choose to place a green slide on each individual slide where you want to show television, or put it on the slide master's first slide if you want to how it on all slides.
Resize and place the green screen where you want to show it.
Set the green screen's source to IP Camera and set the URL of where to get the live stream from the internet or streaming server. For this, we use the live stream of ABC News.
In design mode, the live stream or camera output will not be shown in design mode. The live stream will start when you start and play the slide show.
Use VideoPoint and live television streams of any source on your computer screen. Show facts and important numbers next to it. Set the slides to advance automatically after a certain number of seconds (best no advancing with mouse clicks here since it is going to run probably 24/7). And set the slide show type to kiosk mode to run full screen and forever.
Download the free 15-day trial of VideoPoint and get started live television on your slides.